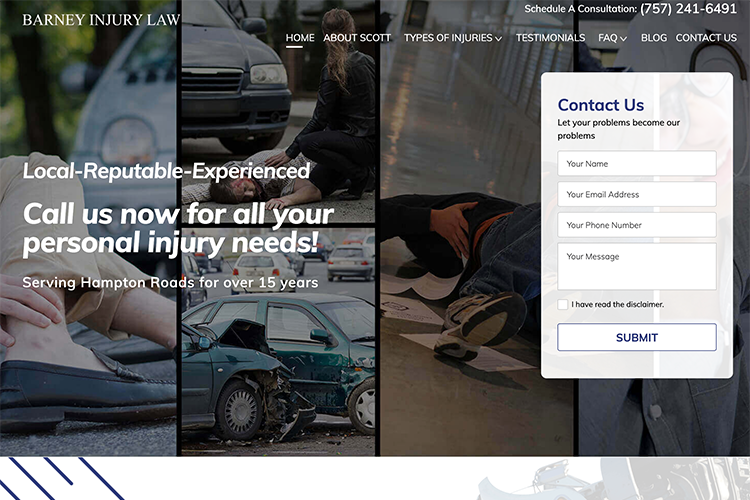 Barney Injury Law Announces Launch of New Website
Attorney Scott R. Barney, Esq. and the team at Barney Injury law are pleased to announce the launch of their newly redesigned website.
VIRGINIA BEACH, VA. - Attorney Scott R. Barney, Esq. and the team at Barney Injury law are pleased to announce the launch of their newly redesigned website, https://www.barneyinjurylaw.com.
The new website was redesigned to help current and prospective clients get the information they need and to connect directly with the firm online. Barney Injury Law represents those who've been injured due to the negligence of others in Virginia Beach, Norfolk, Chesapeake, and the entire Hampton Roads area. The new website provides helpful information for those who've been hurt in our community. Some of the cases Barney Injury Law handles include:
Car accidents
Truck accidents
Motorcycle accidents
Nursing home negligence
Head and spine injuries
Slip and fall / Premises liability claims
Dog bite injuries
Wrongful death
Attorney Barney's primary focus is on personal injury, and he believes that as a sole practitioner, he can provide more personalized service to his clients. He prides himself on responsiveness and attention to his clients' needs. Attorney Barney says of the new website:
"We have always thought of our firm's website as a place prospective clients can get information about our firm and potentially their case. Now, with this new design, it's easy to not only find out information about the firm, but also easier to navigate and find the help and information folks in Hampton Roads deserve when searching for an injury attorney"
With the launch of the new site, Barney Injury Law can continue to serve those who've been hurt in Virginia Beach and Hampton Roads. Visitors can immediately see what types of cases the firm handles, and can tell that this law firm's approach is different from others. A prospective client can learn more about Scott and his client-first approach, as well as learn about his deep ties to the Virginia Beach community.
Scott is a third-generation attorney, born and raised in Virginia. He attended the University of Maryland, where he obtained his Bachelor of Science Degree in Business in 2002. He then attended Nova Southeastern University, Shepard Broad Law Center, where he earned his Juris Doctor in 2005. He is a member of the Virginia State Bar, the U.S. District Court for the Eastern District of Virginia, and the Virginia Trial Lawyers Association.
Of his connection to the community, Attorney Barney says:
"Our new site does a much better job communicating our value proposition being that I am a third generation lawyer born, raised and practicing in Virginia Beach. We think that matters a great deal."
The new website design helps put the experiences of past clients front-and-center, which is important to the firm. With so many real stories from satisfied clients who've recovered compensation for severe injuries, letting them tell their story in their own words was important to Scott. Some examples include:
THESE GUYS ARE GREAT! Both professional and personable, and they definitely keep you informed throughout the process. They called every six weeks sharp! I was so confident in their work, and in the end they didn't disappoint!
Mr. Barney and his staff were amazing. They always return calls and emails, and their knowledge made me very confident in the outcome of my matter. Which leads me to the outcome…I was more than pleased!!
Attorney Scott Barney and his team at Barney Injury Law have the skills, experience, and resources necessary to handle a wide variety of injury cases. To better serve those who've been hurt, a modern, responsive, and mobile-friendly site is vital for staying connected to current and prospective clients.
If someone has been hurt or lost a loved one in Hampton Roads or elsewhere in the Virginia Beach area, finding the right attorney to handle their case is crucial. With more than 15 years of experience representing those who've been harmed by someone else's recklessness or carelessness, Barney Injury Law is the go-to firm to contact. When visiting the new site, those who've never dealt with an injury lawyer can watch videos of Scott, learn more about their rights and legal options, and quickly contact him by phone, contact form, or live chat.
The team at Barney Injury Law invites you to visit the new website and learn more about us and what we do. If you've been hurt, we'll be ready to stand up for you and fight for the full and fair compensation that you're owed.
About the Barney Law Firm
For more than 15 years, Attorney Scott R. Barney, Esq and the team at Barney Injury Law have fought for those who've been hurt in Virginia Beach, VA. Visit our new website at www.barneyinjurylaw.com to learn more about our experience, our track record of successful verdicts and settlements, and how we can help you get justice if you've been harmed by someone else's negligence.
Media contact: Barney Law Firm - (757) 241-6491